One of the main ideas behind the creation of Musiterania™ is creating a network of local chapters of Musiteranians to offer members opportunities to perform in concerts and recitals, do workshops, and masterclasses.
Over time the number of chapters will grow as will the membership. As it grows the network to be created is at it's core a closed network, meaning, just for members. But, of course any performances or events can be opened up to the public for the cost of admission.
This makes it possible for venues to use Musiterania™ as a way to get folks into their business, build their clientele, sell more of their stuff, and get return business as well.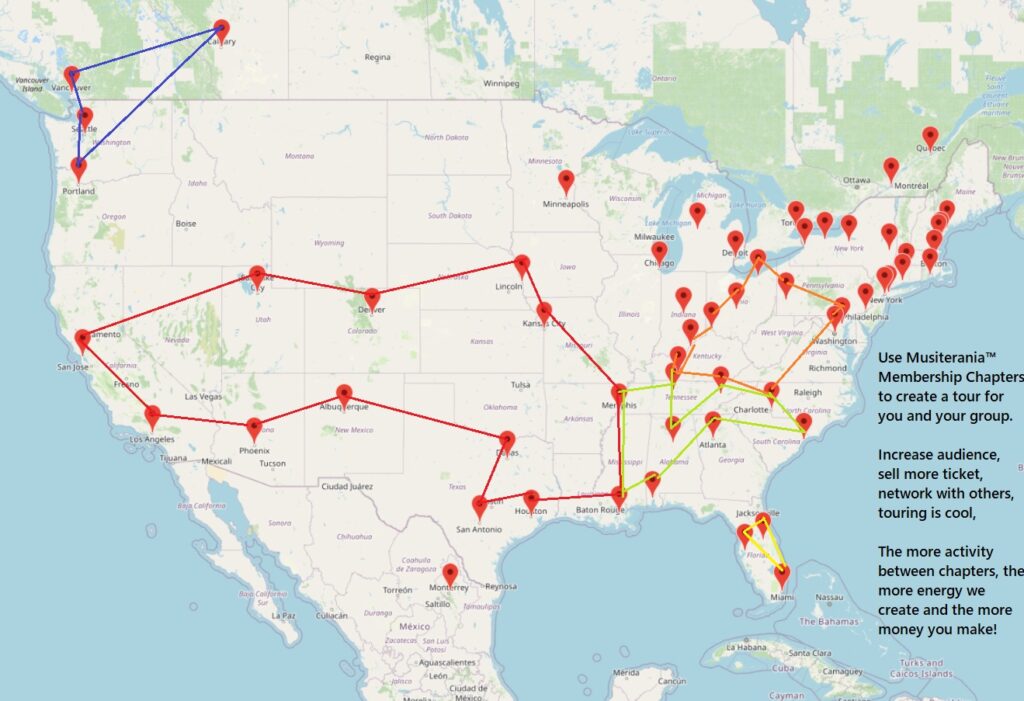 The map indicates what it could look like over time. Using the Affiliate based Ticketing system, it would make it possible for you to earn commissions sales of tickets of other musician's events, in other locations, and for different reasons.
It will also become possible to do larger venues, and create more income through commissions from the sale of tickets.

Lets say a Musiteranian creates a performance that sells 1,000 tickets at $30.00 per ticket, which is very reasonable, then the commission could be say 25% of the sale for referral affiliates, or $7.50 per sale, and if you refer 20 that would be $150 in commissions from that one concert! Refer 200 that would be a nice little $1500 payday, and all you did was tell a lot of people about a concert they would want to go see anyway!
The point here is that by being a Maestro Member of Musiterania™ you will be able to open up new doors of ways to monetize your involvement in music. Until now, there was no such cooperative system available for that.
One of my visions for Musiterania™ was that the people who pay to attend concerts can also help sell tickets to those concerts and not only pay for their tickets, but earn more by being an affiliate in the Maestro Membership program in Musiterania™.
Coperor! Cooperation, working together, and coordination of a group committed to the success of their fellow musicians.
Musiterania™ is looking for chapter leaders anywhere in the world. Create a Chapter for Musiterania™ build your chapter's membership and earn those commissions, and help your chapter grow by helping your members earn commissions as well, so their membership is paid for by their commissions, ensure a long life span for each membership.
Get started today, help others get started tomorrow.